Publikováno: 28.12.2022
Typ publikace: Články v externích časopisech
Srovnání bibliometrické kvality publikací vytvořených v rámci ERC-CZ a ERC s účastí ČR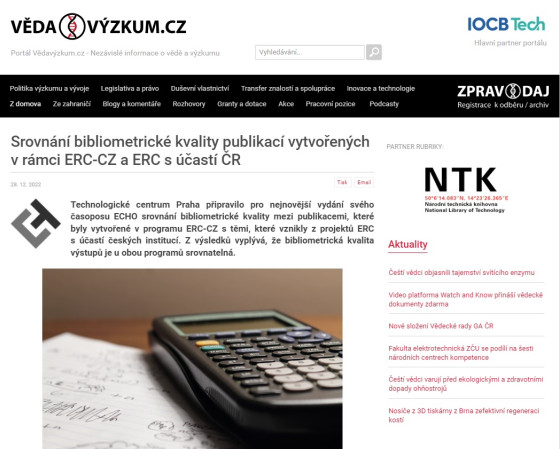 Články ke stažení:
Technologické centrum Praha připravilo pro nejnovější vydání svého časoposu ECHO srovnání bibliometrické kvality mezi publikacemi, které byly vytvořené v programu ERC-CZ s těmi, které vznikly z projektů ERC s účastí českých institucí. Z výsledků vyplývá, že bibliometrická kvalita výstupů je u obou programů srovnatelná.
Abstract
The ERC – CZ programme was established in 2010 with the aim of supporting excellent research in the Czech Republic by implementing project proposals that were submitted to one of the calls of the European Research Council (ERC) and were evaluated by international expert panels of the European Research Council but did not receive support from European funds – or respectively, from FP7 and the H2020 programme.
Between 2012 and 2021, a total of 30 projects were supported from the ERC-CZ programme. In this analysis, we compared the publication results of this programme with the publication results of the ERC-FP7 and ERC-H2020 projects involving Czech research institutions (so-called ERC-FP7-CZ and ERC-H2020-CZ projects) either as the host institution of the main investigator of the project, or as a partner institution, providing the main investigator with partial services and activities necessary for solving the project.
Our analysis shows that ERC-CZ is a relatively successful programme, as it produces on average a slightly higher number of publications per project than the number yielded by ERC projects with the participation of Czech institutions in the H2020 programme. The bibliometric quality of publications from ERC-CZ also is comparable to that of publications from the ERC-H2020-CZ projects. Although ERC-CZ publications have a slightly lower level of international cooperation than ERC-H2020-CZ publications, their normalized citation rate (CNCI) is the same. Publications from ERC-FP7-CZ have an even higher citation rate, but this is most likely due to the fact that almost half of these publications came from projects that had a main host institution in the UK and were led by experienced principal investigators (PI) affiliated with British institutions.
Celý článek si můžete přečíst na portále vědavýzkum.cz