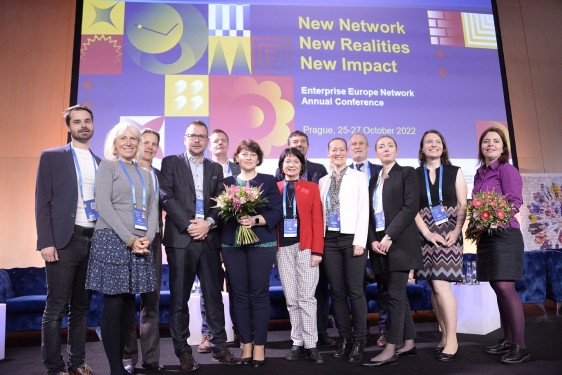 Business Support
The department primarily focuses on the universal support of the development of business, innovation, and international competitiveness of Czech companies, especially small and medium-sized enterprises. The department provides consulting, advisory, educational, and other expert services as listed below. For a more detailed description, please visit the Business Support specialised  
 website – www.tc.cz/orp
.



The Business Support Department's primary focus:
The department team coordinates the provision of the international Enterprise Europe Network service in the Czech Republic. With the help of this network, they assist Czech companies to find partners for international business, technology, and research collaboration.
In so doing, they use the international supply and demand database as well as participate in international collaboration meetings of companies and in international trade fairs.
The department is involved in the ESA Technology Broker project that supports the technology transfer from the space programme of the European Space Agency (ESA) to terrestrial applications. See the project web.
The department monitors a wide offering of consulting in the field of grant programmes at the national and European levels as well as other opportunities to finance the development and innovations in companies. Based on the analysis of the needs they identify suitable sources of financing for the client companies, as mentors they can appropriately define the project intention, and they guide the companies through the process of preparing the project application.
By means of the structured interview, the department evaluates the innovation capacities and potential of the client company, identifies their innovation opportunities, and designs steps leading to the better management of innovations within the company. The Business Support mentors assist company owners and directors to view the company from a different perspective, taking a necessary distance and a detached view, and they create space to formulate or revise the company's strategy.
The mentoring programme is designed for young and technology-oriented innovative companies with ambitions to grow internationally. The programme combines education, the sharing of experiences, and first-class tailored consulting; it prepares companies to negotiate with investors and provides them with important feedback on the business intention, essential information, and contacts for successful growth as well as expansion into foreign markets.
This acceleration programme offers space to technological companies at the Technology Centre premises including the administrative facilities (equipped offices, office supplies, conference centre, etc.) as well as coherent managerial and expert consulting.
The department offers free consulting on the crucial issues of the protection and application of intellectual property rights, especially in relation to technology and industrial innovations.
The Business Support department is gradually expanding their services to support the fast-developing digitisation in client companies. They provide specialised services in collaboration with their expert partners. It mostly includes the evaluation of digitation capacities of companies and the planning of further development in the use of digital technologies.
orp.tc.cz/en