Most Excellent Order of the British Empire (Civil Division) for Otakar Fojt
10/29/2023 Author: Daniel Frank, frank@tc.cz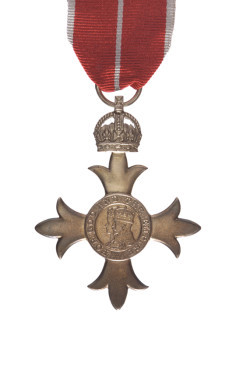 His Majesty King Charles III, King of the United Kingdom has been graciously pleased to award the Most Excellent Order of the British Empire (MBE) to Dr Otakar Fojt for services to science and innovation in the Czech Republic. The news has been published on the UK government website. The information about the prestigious award for the Czech scientific diplomat was also announced by the British Ambassador in Prague Matt Field on his Twitter account.
Otakar Fojt works at the British Embassy in Prague as a science diplomat for the Science and Innovation Network (SIN), which is part of the Foreign, Commonwealth and Development Office of the United Kingdom of Great Britain and Northern Ireland. He has long been dedicated to the development of Czech-British relations in the field of science, modern technologies and innovation.
 "We are intermediaries in science diplomacy and technology transfer. On the one hand there are authors, scientists and on the other potential partners and customers. Connecting these two sides is very interesting, but also often exhausting and very challenging," said Otakar Fojt in 2018, when he received the award for the best science diplomat from the UK SIN (UK Science and Innovation Network).
Otakar Fojt received his master's degree in biomedical engineering (1994) and doctorate (1997) from Brno University of Technology. In 1996 and 1997 he was honoured with a Chevening Scholarship at the University of Oxford (Merton College). He then worked for four years as a postdoctoral research fellow in the Department of Mathematics at the University of York and as a visiting scholar at the Fields Institute in Toronto. In 2001 and 2002 he was a director of a small technology company operating in Central Europe. Since 2003, he has been the Scientific Attaché at the British Embassy in the Czech Republic.
Technology Centre Prague has had the privilege of working with Dr. Otakar Fojt for many years. We congratulate him on this important award, which few Czechs have received so far.
Daniel Frank, frank@tc.cz, TC Prague