Special edition of the ECHO journal 5-6/2022 in English
09/29/2022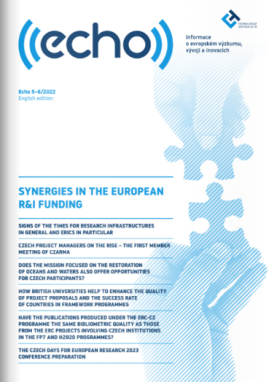 This special edition of the ECHO journal has been published in English around the middle of the Czech Presidency of the Council of the European Union.
Selected and recommended from the contents:
SYNERGIES IN THE EUROPEAN R&I FUNDING (Michaela Vlková)
QUALITY PROJECT MANAGEMENT IS KEY TO A SUCCESSFUL PROJECT: PROFESSION OF RESEARCH MANAGERS AND ADMINISTRATORS ALREADY RECOGNIZED IN THE CZECH REPUBLIC (Lenka Chvojková)
ERA OR HERA? HORIZON EUROPE WITHOUT THE FULL PARTICIPATION OF THE UK? OR HOW BRITISH UNIVERSITIES HELP TO ENHANCE THE QUALITY OF PROJECT PROPOSALS AND THE SUCCESS RATE OF COUNTRIES IN FPS (Daniel Frank)
HAVE THE PUBLICATIONS PRODUCED UNDER THE ERC-CZ PROGRAMME THE SAME BIBLIOMETRIC QUALITY AS THOSE FROM THE ERC PROJECTS INVOLVING CZECH INSTITUTIONS IN THE FP7 AND H2020 PROGRAMMES? (Jiří Vaněček, Daniel Frank)
PURCHASING POWER PARITY AS AN ALTERNATIVE FINANCIAL INDICATOR FOR EVALUATING PARTICIPATION IN HORIZON 2020 AND OTHER FPS (Vladimír Vojtěch, Daniel Frank)
You can read the whole edition here.