Visegrad 4 project managers training in Brussels
11/25/2020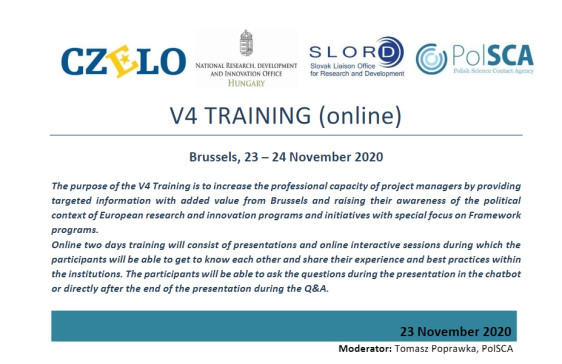 On 23-24 November 2020 the V4 training for project managers took place. A total of 32 project managers working mostly for universities and research institutions in the V4, Estonia, Lithuania, Spain, Norway and Moldova took part.
The training was organized by the Czech Liaison Office for Research, Development and Innovation (CZELO), the National Research, Development and Innovation Office of Hungary (NRDIO), the Slovak Liaison Office for Research and Development (SLORD) and the Polish Science Contact Agency (PolSCA). These offices have a common interest to foster the participation of their respective countries in the framework programmes for research.
The training was another of their joint activities following previous events.
The aim of the training was to contribute to build professional capacities of project managers by providing them with 'Brussels added value' information and thus raise their awareness of the political context of the European research programmes and the initiatives beyond Horizon 2020 and with special focus on future Horizon Europe. Although the CZELO office offers individual project managers' internships as a standard service, the V4 format allowed for a more comprehensive and intense 2-day programme that offered a number of speakers from the European Commission as well as experts and practitioners.
Representatives from the EC held presentations on the novelties in Horizon Europe compared to Horizon 2020 with focus on missions and new approach to partnerships, open access to research data, communication and dissemination of research results, H2020 project audits and changes in new grant agreement and overall implementation that comes with Horizon Europe. The discussions were held also regarding the Marie Sklodowska Curie Actions, especially on the topic of RISE and successful proposal development. Furthermore, the participants received an insider´s view from Brussels-based experts and Belgian institutions representatives on how to build cooperation across the European Research Area using, for example COST Actions.
Agenda of the training is available here.