Leticia Botella Sánchez at 18th Science Café
10/15/2020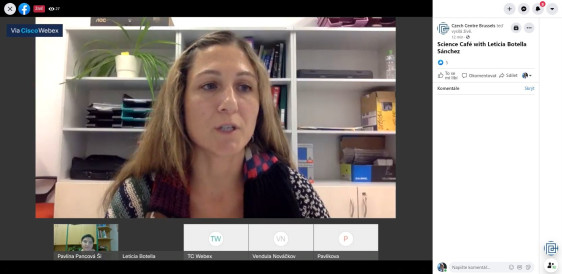 On 8 October 2020, the Czech Liaison Office for Research, Development and Innovation (CZELO), together with the Czech Centre Brussels, the Representation of the South Moravian Region to the EU, Mendel University in Brno and the Embassy of the Czech Republic to the Kingdom of Belgium, jointly organised another Science Café. This time, the invitation for the eighteenth edition accepted Leticia Botella Sánchez.
Leticia Botella Sánchez's current workplace is at the Phytophthora Research Centre at
the Mendel University in Brno, where she specialises on the description of new species of viruses which attack funguses – mycoviruses. Her research covers their occurrence and diversity within hosts' populations, their transmission, and possible protection against them. Her expertise is in the field of plant and tree pathology from the molecular to the ecological level.
In the debate Leticia pointed out that not all mycoviruses threat the organism, most of them do not disturb the host organism. She mentioned that the introduction of high-throughput sequencing-based methods has paved the way for genomics-based detection of pathogens without any prior assumptions about the characteristics of the organisms. In the discussion she highlighted that we know only 1 localhost of all world viruses.
In the second part of the debate, the discussion touched upon scientists' mobility, gender differences, her next research plans, and also about her motivation and the Czech society.
The record of the debate is available here.