Eva Cudlinova at the 16th Science Café
12/02/2019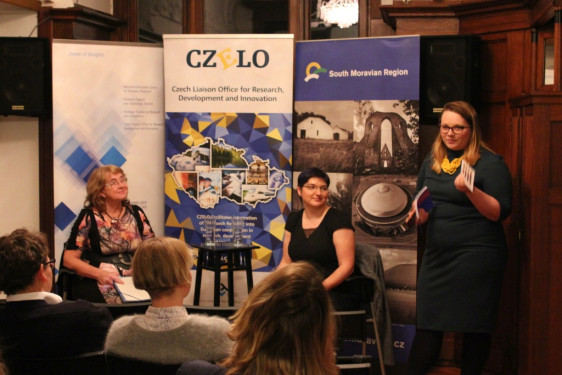 On 27 November 2019, the Czech Liaison Office for Research, Development and Innovation (CZELO), together with the Czech Centre Brussels, the Embassy of the Czech Republic to the Kingdom of Belgium and regional representations of Prague, Pilsen and South Moravia, jointly organised another Science Café. This time, the invitation for the sixteenth edition accepted Eva Cudlínová.
Associated professor Eva Cudlínová leads the Department of Regional Development at the University of South Bohemia. She closely cooperates with the regional stakeholders on realising the full potential of European Bioeconomy within the European Commission's SMART region initiative. Her research covers various topics, including a sustainable response to the social and ecological challenges
or social perception of soil erosion. She also works in the field of human ecology, which is an interdisciplinary and transdisciplinary study of the relationship between humans and their natural, social, and built environments. Her work is also dedicated to the environmental and ecological economics, regional development and changes of the rural landscape. Eva Cudlínová was a member
of the European Bioeconomy Panel of the European Commission from 2013 to 2016.
Eva Cudlínová focused on the "smartness" of asofistikovaná specifikal, and its ability to integrate diverse actors in the region's innovation practice. She also discusses bioeconomy and its definition and relation between the development of new technologies and processes; development of markets and competitiveness and on pushing local stakeholders to work more closely together.