Luděk Hynčík was our guest at the 15th Science Café
10/07/2019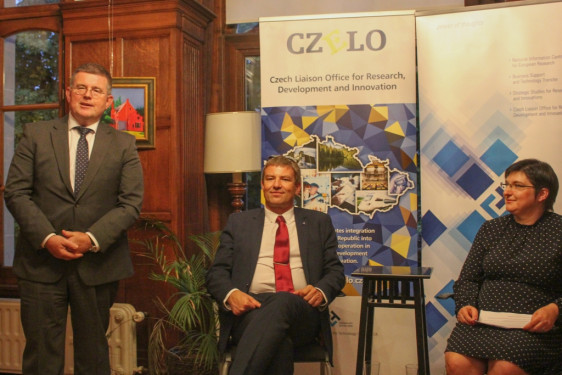 On 3 October 2019, the Czech Liaison Office for Research, Development and Innovation (CZELO), together  with the Czech Centre Brussels, the Embassy of the Czech Republic to the Kingdom of Belgium and regional representations of Prague, Pilsen and South Moravia, jointly organised another Science Café. This time, the invitation for the fifteenth edition accepted Luděk Hynčík.
Associated Professor Luděk Hynčík is the Vice-Rector for Research and Development and vice director of the New Technologies – Research Centre at the University of West Bohemia. He is also Visiting Professor at the Tianjin University of Science & Technology, China. His expertise is in impact biomechanics, mechanics of discrete systems, finite element methods and particles method. From the beginning of his scientific career, Luděk Hynčík focused on virtual human body models useful for injury analysis related to vehicles impact. He is also co-author of the VIRTHUMAN hybrid model which was developed with close collaboration with the automotive industry.
Luděk Hynčík is also the chairman of the advisory board of Techmania Science Center, vice president of the International Federation of Automotive Engineering Societies (FISITA) for education, vice president of the Czech Automotive Society, board member of the Czech Society of Biomechanics.
The debate focused mainly on issues related to the human body modelling and differences in the use of models and crash dummies during crash tests, the possibility of using models to improve the parameters of motorcycle helmets or other usage models in for example healthcare. Further inquiries were directed to the model validations and their future in connection with autonomous vehicles. Participants were also interested in the differences between academic activities at the Czech and Chinese university.