Science Café with Eva Cudlínová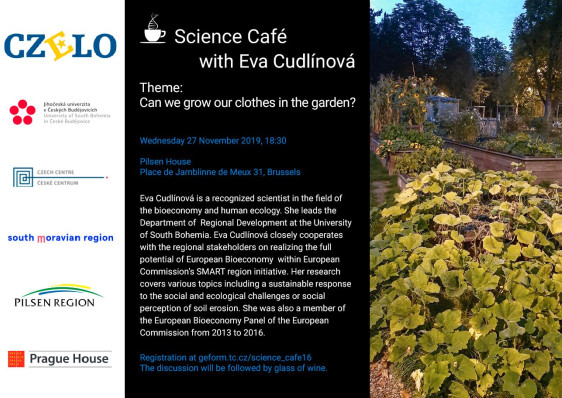 | | |
| --- | --- |
| When: | 11/27/2019 5:30 PM |
| Where: | Brussels (Belgium) |
Details:
Czech Liaison Office for Research, Development and Innovation (CZELO) and its partners are pleased#### to invite you to the Science Café with Eva Cudlínová, an unconventional open discussion focused on the bioeconomy.
Eva Cudlínová is a recognized scientist in the field of the bioeconomy and human ecology. She leads the Department of Regional Development at the University of South Bohemia. Eva Cudlínová closely cooperates with the regional stakeholders on realising the full potential of European Bioeconomy within European Commission's SMART region initiative. Her research covers various topics including a sustainable response to the social and ecological challenges or social perception of soil erosion. She was also member of the European Bioeconomy Panel of the European Commission from 2013 to 2016. Eva Cudlínová carries out her research within European projects such as POWER4BIO, as well as in projects funded by the Faculty of Economics of the University of South Bohemia, such as the Development of the South Bohemian Region - Potential for the Application of the European Commission Smart Region Initiative GA JU 074/2017 / S.
Science Café is a forum for discussion of current work and interesting scientific issues. It aims to be informal and accessible. Anyone can participate; speaker is there to be questioned and to talk about her work. The debate will be followed by a glass of wine. More information can be found here and registration is available here.
Science Café is jointly organized by the CZELO, Czech Centre Brussels, Representation of the South Moravian Region to the EU, Representation of the Pilsen region in Brussels, Delegation of Prague to the EU and Embassy of the Czech Republic to the Kingdom of Belgium.
.